Are your Customers Happy? How to Increase Customer Satisfaction in your Business (Part II)
In our last post, we talked about the most efficient and commonly used methods to measure customer satisfaction in your business.
Measuring the satisfaction of your customers is a key factor for the successful run of your company, and it is widely considered a firmly anchored principle in the corporate world. In fact, companies that have been thriving over the last couple of decades, have set customer satisfaction as a central object of research, and regard it as a critical entrepreneurial target that forms the basis for their customer loyalty.
Consumer contentment is also believed to be the beginning of the value chain. With the highly competitive density and increasing customer requirements, the focus is no longer on the product, but on the customer. From product management to customer service, orientation towards customer needs is now mandatory in most businesses – large and small – as it not only has a direct influence on the company's success – happy customers will keep buying products and bring in revenue – but also, it indirectly affects product development. Businesses are continuously trying to obtain essential information about their customers' experiences with their products through surveys and other methods.
According to a 2021 survey conducted by SuperOffice.com on over 2,000 small- and medium-sized businesses across the US, the main priority of business owners for the next 5 years is customer experiences, service improvement, customer support, and product adjustments to better address customer needs.
"It is no surprise that customer experience is the number one priority," SaaS companies report (Microsoft, Amazon, Google, HubSpot, Cisco, and many more). "Especially companies that earn $1 billion annually can expect to earn, on average, an additional $700 million within 3 years of investing in customer experience. Even bigger companies can expect to increase revenue by $1 billion, within a few years, while small businesses that invest in customer satisfaction initiatives have the potential to double their revenue within 36 months."
A good customer experience means that your customers are willing to spend more on your products and are less sensitive to your pricing changes. In 2019, PwC also reported that "86% of buyers will pay more for a great customer experience and for a better, premium quality customer service."
It is also no secret that great customer experiences influence on-the-spot purchasing for up to 50%, where buyers make impulse purchases after receiving quality personalized service. It has therefore become apparent, that in 2021 and the years to come, customer experience and customer satisfaction will overtake price and product as the key brand differentiators in most industries.
How can you increase customer satisfaction with inexpensive, but efficient strategies?
How to Increase Customer Satisfaction?
Listen to Your Customer Feedback
In order to be able to derive effective measures and make product and service adjustments, it is essential to better understand the customers, what they are looking for in your products, and how they perceive their value. Unfortunately, only partial feedback in dialogue with individual employees does not provide a structured and comprehensive picture of customer satisfaction. A sufficiently large sample must be selected and professionally surveyed with a standardized questionnaire in order to fully capture customer satisfaction. Reading customer reviews (especially online), analyzing surveys, examining complaints, getting in touch with consumers via email or phone, are all helpful methods to gather valuable feedback.
Attentive listening is key to increasing customer satisfaction. For example, take notes from conversations with your customers, seek to find answers to their requests, and ask questions to understand exactly what your customers really want.
Customer satisfaction should also be measured at regular intervals, as the focus is on looking at developments over time and being consistent in the great service that you provide.
Create a Community for Your Customers
Kris Elliott, COO at Expansive Workspace, has spent the past 20 years of her career building strong partnerships, developing and maintaining innovative and quality customer experiences. In the 3rd episode of the LIKE IT'S YOUR JOB podcast by Growth To Exit, Kris brought in her wealth of knowledge and insights to discuss how business owners create the foundations for a solid consumer base and gain loyal customers, even by doing small things and acts of kindness that make a difference.
Kris explains that it is important for businesses to make their customers feel like they are part of a community and ignite a sense of belonging in them. This can all start with simple, daily gestures to show customers that they are understood and appreciated.
"We all want to feel like we matter and we are part of something. The small details, like saying 'good morning' and 'my pleasure' brings big results and brighten our day."
Kris also adds that companies that go the extra mile to cater to people's needs are the ones that build strong customer relationships that last forever and manage to turn customers into brand ambassadors that bring in new customers.
Especially challenging financial and social times, such as the COVID-19 era, give an opportunity to all companies to show how much they care and value their clients.
"The pandemic challenged us in new ways to help serve our clients' needs. Everything from mobile and remote services to helping clients with payroll protection plan support, and helping the businesses we support to apply for loans and get them through the toughest days of the coronavirus. If one of our clients needed help, it was our mission to find a solution," Kris says.
Offer Excellent Customer Support & Services
When it comes to offering your customers efficient and high-quality support and services, it all starts from "inside" the company: your employees.
Your staff members are the best representation of your company (both on and off duty) and the way you train them is in direct proportion to their performance with your clients.
Kris Elliot points out that the secret to developing and maintaining quality customer experiences is for businesses to make the right hiring choices and find the right fit for their employees.
"Training has to be customized and adaptable to every situation. If a hire is not the right fit, it is better to cut ties early rather than continue with a wrong fit that does not better either the business or the new hire."
"We strive to give our new hires tips, teach them best practices and offer mentorship, setting them up on the road to continual success," Kris adds.
Listen to full podcast episodes on LIKE IT'S YOUR JOB, Spotify or Apple Podcasts.
Be Honest & Realistic
When customers see a "too good to be true" offer, they usually consider it unrealistic and they associate it with poor quality products and services. It is important that you are honest about the pros and cons of your offerings and refrain from praising your own products all the time. In fact, surveys have shown that too much "fine print" could arouse suspicions and lead customers to buy a more expensive product from a competitor that seems to better fit their expectations for high-quality purchases.
Peter Drucker also famously said that "Your customers are not stupid. The shot will backfire if you raise expectations that you cannot fully or even partially meet. On the other hand, your customers will thank you with a loyal relationship if you remain honest and realistic in communication."
Deliver Quality
Customer satisfaction arises when your product or service meets all the customer's expectations. So, a good place to start here is to ask yourself whether you, as a consumer, would buy the product that you are selling and be satisfied with it.
Quality assurance is essential for great customer satisfaction. In order to always deliver good quality, you need to run processes "in the background" (regular product checks, review monitoring, and industry standards analysis), as well as work with the right suppliers and hire the right employees. Of course, in many cases quality is subjective and can be assessed differently by different people, but being consistent and always aiming not only to meet customer expectations, but to exceed them, is what creates appreciation, and simultaneously preference for your business from the general public.
Moreover, the delivery of great products and services are geared to the individual needs of the customer, creating are an advantage that is difficult to imitate. It generates customer satisfaction and reduces the willingness of consumers to change brands.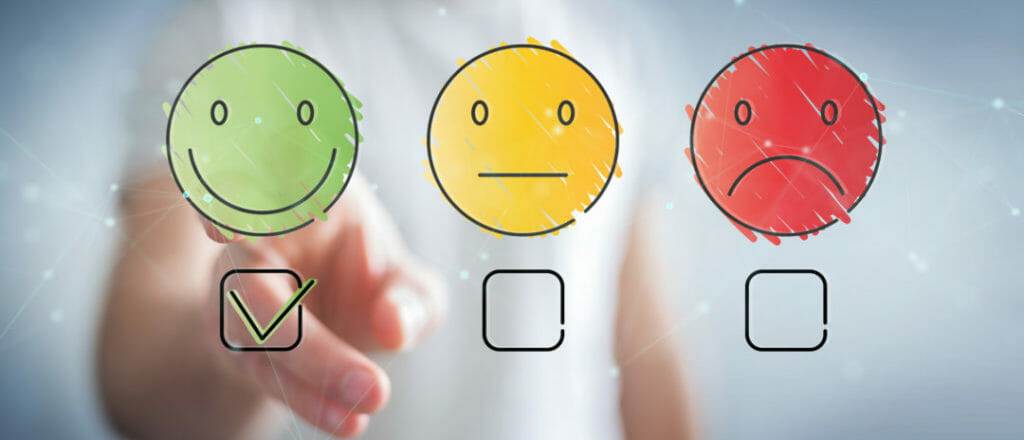 Keep an Eye on Your Competition
In the era of digitization, being agile and efficient is everything. Customers today have more expectations than ever before and are constantly bombarded with tons of information, new ideas, and a plethora of options to choose from – not just in terms of products and services, but also in terms of customer service, delivery type, payment method, etc. They are used to fast deliveries and are correspondingly more impatient than they were perhaps ten years ago. For you as a business owner, this means that in order to increase your customer satisfaction, you should be more flexible than the competition and give better product options. Research and study your competitors, their methods, products, pricing, so that you can stay on top of the competition and improve your own offerings.
Communicate Openly with your Customers
Good service has to be a matter of course with every contact with a customer, therefore it is crucially important that you offer your customers several ways to contact you, such as phone number, email, mobile app, contact form, or online chat. Studies have shown that even if your customers do not take up all the options, they will still have a positive image of your company and recognize its professionalism.
Reportedly, easy and fast communications some of the top consumer requests from a company, and while good customer service is characterized by the fact that you meet customer expectations, an excellent service is exceeding expectations and delighting your customers, for example in the form of an unusually fast response time to a request.
The Bottom Line
In the age of social networks and, customer satisfaction is a crucial success indicator for almost every company, regardless of whether it is a B2B or B2C type. It is not uncommon for companies that do not put the effort to research and understand their customers' needs, and improve their customer satisfaction levels, to "fade in the background" and lose their clients to more agile and progressive competitors.
Additionally, customer expectations are higher than ever and people can freely share their experiences on the internet, exchange ideas with other consumers, and research products, services, and brands – all anonymously. Even a few negative reviews can have devastating consequences for the image of a company. Customers are known to share bad feedback rather than good, and if they have an unexpected or negative experience with your products, they want to vent their anger and report on it.
Never forget – customers can act as a multiplier, both in a positive service experience and in a negative one.
By investing in customer satisfaction and setting the customer as the center and end goal of the business strategy, companies can prevent, or at least greatly reduce, negative customer experiences. High levels of customer satisfaction increase the probability of a repeat purchase, bring in larger revenue and help the client base of a business grow. A satisfied customer will recommend your company to others, develop long-term loyalty to your brand, and be willing to pay a higher price for your products.